JACK HENRY
THE HAIR KIT
Get effortless style and nourish your hair + scalp for thicker, fuller, healthier hair. As with all Jack Henry products, there are no synthetics, alcohols, aluminum, or other questionable toxins. Less is more.
KIT CONTAINS:
CLEANSE+
Superfood for your skin. A concentrated yet gentle all-in-one cleanser made for face, body, hands + hair. Contains prebiotic sea extracts and hydrating botanicals that feed your skin's healthy microbes. Helps alleviate acne, eczema, inflammation, redness + problematic skin. 8oz 
HAIR REFRESH 
A refreshing sea salt spray inspired by the California coast. Pacific sea salt adds thickness, texture and helps control flyaways. Lemon oil uplifts and energizes your mood. Use for a quick hair refresh when you don't have time for a shower or need a pick-me-up. 4oz
CLAY POMADE
The 4-ingredient Clay Pomade provides an all-day effortless hold and adds thickness, texture and volume to your hair. Zero greasiness or crunchiness; the Clay delivers a workable feel with a real matte finish. Humidity + sweat-resistant and reshapeable throughout the day. This product not only styles hair but also delivers nourishing antioxidants that stimulate hair growth and fight dandruff + itchy scalp. There's nothing else like it. 2oz
Formulated and bottled in Southern California using organic ingredients and sustainable packaging. 
FREE 2-3 DAY SHIPPING
CLEANSE+: Filtered Water, Coconut Oil*, Aloe Vera Powder*, Dead Sea Salt, Sea Kelp*, Citric Acid, Plant Glycerin*
HAIR REFRESH: Alkaline Water, Pacific Ocean Sea Salt, Witch Hazel*, Lemon Oil*
CLAY POMADE: Coconut Oil*, Bentonite Clay, Beeswax*, Lavender Oil*
*Organic ingredient
Customer Reviews
Write a Review
Ask a Question
Excellent product
Been using numerous type of paste and clay for years, this stuff is so superior it's not even funny. Great hold, no shine, looks like there is nothing in your hair
04/08/2021
Anonymous

United States
Great Products
The best hair products I've ever used!
03/01/2021
Anonymous

United States
Awesome products
Hair kit is a great bundle. Especially love the hair pomade and the cleanse+ (the cleanser makes my hair and face feel incredible after each use. I will say, I don't get as much use out of the hair spray, so customization would be great in the future. The value of the cleanser and pomade alone are enough to give this 5 stars.
01/02/2021
Marissa C.

United States
Hair Kit for the (future) Husband
So far he loves it! He has blonde, straight hair that he wears cropped closer to his head, with some more volume on top. He struggles to find products that don't weigh down his hair, and so far the hair clay has worked very well—lightweight and smells good too :) The two other hair products smell wonderful, and allow him to freshen up his hairstyle without completely washing it everyday. Here's to more sustainable products!!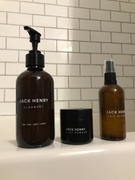 12/17/2020
marla s.

United States
BEST SH*T EVER
I have 3 sons and have been through 25 years of haircuts and products — The molding clay is excellent ! Hair style continues to look clean, styled and pliable for a messy look - even the next day . Thanks Jack Henry!