JACK HENRY
THE BODY KIT
A simple and effective approach that will keep your body looking and feeling its best. Getting ready in the morning should be quick and effortless. This kit contains everything you need to refresh your face, body + hair routine. As with all Jack Henry products, there are no synthetics, alcohols, aluminum, or other questionable toxins. Less is more.
KIT CONTAINS:
CLEANSE+
Superfood for your skin. A concentrated yet gentle all-in-one cleanser made for face, body, hands + hair. Contains prebiotic sea extracts and hydrating botanicals that feed your skin's healthy microbes. Helps alleviate acne, eczema, inflammation, redness + problematic skin. 8oz
FACE TONER
This alcohol-free toner brightens and balances your skin. Use it as a quick post-workout refresher, when you're feeling sluggish, pre + post-shave, or as a face cleanser on-the-go. Leaves skin with a clean matte finish. Follow with the Super Face Oil. 4oz
DEODORANT
A clean, refreshing deodorant with zero synthetics that actually works. Our non-toxic formula was developed in-house and tested on professional athletes for supreme performance. Plant botanicals and bentonite clay absorb sweat and odor and the euphoric blend of Hinoki, Juniper and Eucalyptus oils keep you smelling fresh. 2.65oz
SUPER FACE OIL
Lightweight, non-greasy blend that reduces inflammation, improves skin tone and balances complexion. Camellia Oil has been used for centuries in Japanese skincare routines to hydrate and nourish skin and provides a natural SPF 15. Absorbs quickly while bringing out your skin's natural luster. For all skin types. 1oz
CLAY POMADE

The 4-ingredient Clay Pomade provides an all-day effortless hold and adds thickness, texture and volume to your hair. Zero greasiness or crunchiness; the Clay delivers a workable feel with a real matte finish. Humidity + sweat-resistant and reshapeable throughout the day.This product not only styles hair but also delivers nourishing antioxidants that stimulate hair growth and fight dandruff + itchy scalp. There's nothing else like it. 2oz
Formulated and bottled in Southern California using organic ingredients and sustainable packaging. 
FREE 2-3 DAY SHIPPING
CLEANSE+: Filtered Water, Coconut Oil*, Aloe Vera Powder*, Dead Sea Salt, Sea Kelp*, Citric Acid, Plant Glycerin*
FACE TONER: Alkaline Water, Witch Hazel*, Blood Orange Oil*, Lavender Oil*
DEODORANT: Coconut Oil*, Beeswax*, Arrowroot Powder*, Baking Soda, Avocado Oil*, Bentonite Clay, Hinoki Oil*, Juniper Oil*, Eucalyptus Oil*
SUPER FACE OIL: Camellia Oil*, Hazelnut Oil*, Pomegranate Oil*, Rosehip Oil*
CLAY POMADE: Coconut Oil*, Bentonite Clay, Beeswax*, Lavender Oil*
*Organic ingredient
Customer Reviews
Write a Review
Ask a Question
02/18/2021
Edgar G.

United States
Save your youth
Good deodorant Good Pomade Good Moisturizer Prolong your youth.
11/10/2020
Anonymous

United States
Great Products!
I have been using these products for over a month now and am very happy with them! Natural products that actually work. Can't beat that! I will definitely be purchasing again in the future!
08/11/2020
Anonymous

United States
Jack Henry BODY KIT REVIEW
Great! Highly recommend the super face moisturizer, face toner, and clay pomade!
07/30/2020
Anonymous

United States
Body kit
Very simple , clean, minimal and easy to use . Use it for everything and body feels clean and fresh afterwards . Pomade is great to throw in dry hair anytime during the day to give it a fresh cool look . Deodorant goes on dry and last all day. Face spray is refreshing throughout day as well. Like the all glass bottles too !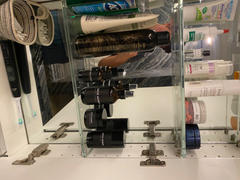 07/24/2020
Anonymous

United States
Feeling fresh
Great products—already feeling a difference in my skin. It's like a mini-spa moment every day.