JACK HENRY
THE BODY KIT
A simple and effective approach that will keep your hair, face, and body looking and feeling its best. Getting ready in the morning should be quick and effortless. Compromised of our best sellers, these three products will do just that. As with all Jack Henry products, there are no synthetics, alcohols, aluminum, or other questionable toxins. Less is more.
CLAY POMADE will thicken, texturized, give serious volume and just the right amount of hold to your hair that leaves zero grease and zero crunch for a true matte finish.
DEODORANT provides up to 48 hours of sweat protection. Formulated with a blend of plant botanicals + bentonite clay that works to absorb and diminish sweat and odor while you stay fresh with a scent of Hinoki, Juniper and Eucalyptus oils - a euphoric aura like you're walking through a Japanese forest.
SUPER FACE OIL is your ultimate all-in-one face oil. 900 drops in each bottle that will hydrate, nourish, reduce blemishes and aging. Your skin will never look or feel better.
Formulated and bottled in Southern California using organic ingredients and sustainable packaging. 
Free 2 - 3 day shipping
Customer Reviews
Write a Review
Ask a Question
05/26/2020
Anonymous
United States
Incredible.
Jack Henry is a hidden gem! From their all natural line of products to the competitive quality this is a no-brainer brand. The pomade is a non-greasy, high-hold product that will have your hairstyle lasting all night without the need for harsh chemicals and sprays. The natural deodorant is the best I have ever used and it actually works! I am excited to see how the face moisturizer holds up but so far it has been great to nourish without feeling too oily.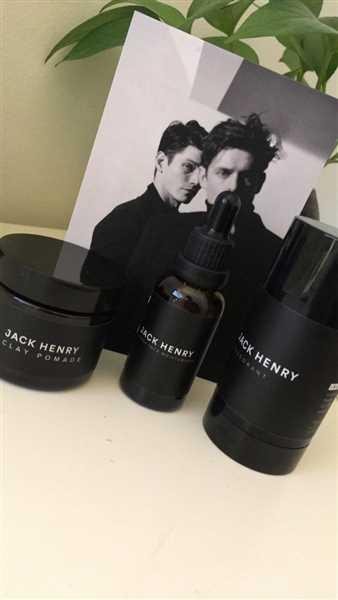 05/15/2020
C J.
United States
Two out of three isn't too bad, but...
The face oil/moisturizer and deodorant both meet/exceed my expectations in terms of ease of use, quality and results; the hair product, however, is not easy to use and is very disappointing to me. I would like to return it for a credit.
05/11/2020
Anonymous
United States
Great products
All of Jack Henry's products are awesome. I'm a repeat customer.
04/13/2020
Leo
United States
Must haves
Started with the Clay Pomade about a year ago so I love to see the brand evolve and offer other body essentials. I'm most surprised with the deodorant that actually lasts all day, and even some into the next day. No other deodorant has worked this well for me, not even the traditional synthetic ones. Also, love the Super Face, my skin has never felt better.
04/11/2020
Kyle
United States
MY GO TO
I use these three products as part of my ritual. If I forget or skip it, I can immediately tell and I need to run back to the bathroom and do it. Love that it's all natural and clean! Never used anything like it.