JACK HENRY
SUPER FACE OIL
Description
Lightweight, non-greasy blend that reduces inflammation, improves skin tone and balances complexion. Camellia Oil has been used for centuries in Japanese skincare routines to hydrate and nourish skin and provides a natural SPF 15. Absorbs quickly while bringing out your skin's natural luster. For all skin types.1oz
Formulated and bottled in Southern California using organic ingredients and sustainable packaging. 
Free 2 - 3 day shipping
Dispense 3-5 drops onto hands and massage onto face + neck. Reapply as needed.
Customer Reviews
Write a Review
Ask a Question
07/16/2020
Anonymous
United States
Best, it cured my oily skin and black heads
Quite an amazing thing, all natural too. I hope this product stays in existence for all time. My entire life I've suffered from oily skin and black heads. Conventional knowledge and doctors told me to use products that dry out the skin to stop the oily skin. It never worked. So I started to study my body and what it was doing: sending tons of oil to my skin. Why does the body do that? Because the skin is actually irritated or, ironically, very dry and doesn't seem to get moisturized to the bodies standards. So I decided to do the opposite of recommendations and actually over moisturize my skin a long with drinking plenty of water. Most moisturizers would not really hydrate my stubborn skin. Enter Jack Henry 'Super Face Moisturizer'. This product is really a combination of oils, thus its oily. You just put 4 drops in your hands and rub it together and then rub down your entire face, preferable right after exiting the shower. Wash your hands after as they will be oily. Get on with your day. After 3 weeks of daily use, you'll notice changes. FYI, I use Jack Henry's SFM in the morning and Taui No.1 Egyptian balm at night. My skin is now cured at after a decade of struggle. Thank you so much for this product which made directly from the earth.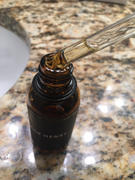 07/07/2020
Anonymous
United States
Can't live without it
An essential part of my morning routine now. This is truly non greasy and leaves a nice matte finish for you to **** your day
06/23/2020
Anonymous
United States
Face Oil
I received this product about two weeks ago now and I must say this stuff is amazing. As someone who suffers from oily skin I did not think a face oil would be useful, but this stuff has changed my mind. It actually makes my face less oily some how and is exactly what I needed. Will be ordering more.
06/19/2020
Arnold S.
United States
Making a difference
I love using this product…… My skin is very dry and this product makes it better
06/10/2020
Anonymous
United States